Hello ladies and gents! Today I will review a new game, called Magicka!
So after talking to the game's dev after a while, she decided to give (Donate) Magicka to me for review! Thank you Ms Veronica!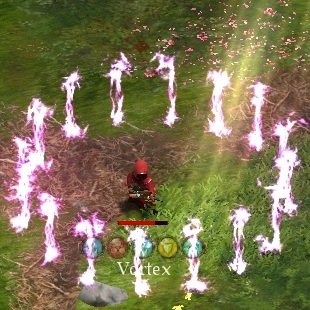 Another great thing about this game is that you can combine spells and then, in stead of using them, you can put them into your sword / mace / wand / staff or which ever weapon is that you use! There are also combinations of spells that you can use to make shield of some element around yourself. For example, since I always use Cyber skin, I'm immune to lightning. In fact, it heals me in stead of harms! And thus, i like to make a lightning circle around myself, which hurts enemies a lot, while it heals me in case that I need to go back and hide!
Of course, in case that any of your friends that are not immune to lightning come close to the ring, they will instantly get burnt and thus, probably die. So be careful!
In Magicka player can chose between a lot of playable skins. Each skin having its own prons and cons. You can also buy game DLC's which add even more skins! I like skin "Cyber" since it makes me feel at home xP
Syphio on the other hand likes to use some ninja-looking one. Cyber skin makes you immune to lightning but it means that you can't get healed by natural "heal" skill. While ninja one makes you run fast, and teleport in case of danger. Very fun little skin.
Pros:
- Doesn't require strong PC to be played on full graphic.
- A lot of different skins and weapons.
- You are able to kill your friends and then revive them. They don't lose anything except the weapons, which they can still pick up from the place where they died.
- You can kill all the NPC's in game, even quest givers.
Cons:
- Lack of tutorial. (I would never know about spells on weapons without Syphio.)
- Very hard on single player.
Final Grade: 8 / 10.
All in all, I loved this simple looking yet very, very fun game to play. I guarantee that if you have friends to play with, you will play this game non-stop and you will laugh the whole time while playing. Definitely worth the money!
Thank you, once again,
Paradox
Interactive for giving me the chance to play this awesome game!