Hello once again Ladies and Gentleman, today I'll be doing a review of FTL: Faster Than Light.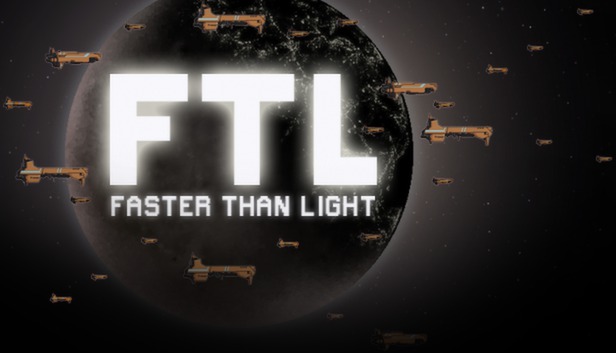 A bit about the game and developers.
FTL: Faster Than Light is a space simulation game developed and published by a tiny indie company that has just two members, Subset Games. Great job developers!
About Gameplay.
So, as I said, FTL is a space simulation game. In it your objective is to fly from one point of the galaxy to the other. You're being chased by rebels, because you've stolen something from them. I say that this game is space simulation because you need to tell your ship crew what to fix, where to go, where to put fire down, and so on and on. You also decide where will your ship shoot at your opponent.
Don't let this game fool you. It looks very fun and relaxing, but it is actually quite complex! Imagine how much you have to attack next - enemy's shield, or maybe guns.. Maybe their engine so they couldn't dodge... Or maybe their medical area so their crewman can't heal - while you have to make sure that there are no hostiles on your ship, and if there are, you have to order your crewmen to kill them. Then you have to put down the fires, fix your guns, fix your shields, fix your oxygen and so on and on.
Now, don't get me wrong. This game is amazing! Also, in case that your ship gets destroyed, you have to do everything from the beginning. And that is what actually makes this game hard. There are never more than just one opponent (at least I've never faced more than one!) in one battle, but it's still quite hard to beat them. There are a lot of ships and ships skins that you can unlock as you progress in the game. Sadly I don't know what is your reward for beating the game, since I've only got to the half of it after trying the game out many, many times.
In the game there are a lot of other areas in which you can jump to that can actually hurt your ship. In those areas there can be either meteors, which can "beat your ship" to death, or you can come too close to the sun which will then make your hull get damaged, which means you can die! There are also some random planets on which you can, randomly, get more crewmen on your ship. They can all even be different races! Every race has their own bonuses, but sadly I don't know them so I can't talk too much about that.
Graphic and Audio
Graphically speaking, the game is very pixelish. Well of course, it's an pixel, indie game! And I have to say, it's very well done! I love the artwork, the explosions, the space, the look of ships. It's very well done. Audio is very relaxing as well. I really enjoy all of the background songs in the game.
Pros, cons and final grade.
Pros:
- A lot of ships to unlocks (and skins!)
- Very nice background pictures and audio.
- Cheap!
Cons:
- Quite hard.
Final grade: 8/10
Extra info: Get this game. You won't regret it! It's just amazing.